Chynna Posted on May 10 2019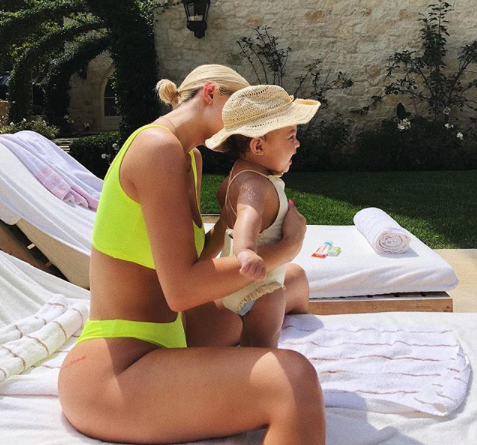 It's time to celebrate your number one girl--no, not your bestie--but your mama! Mother's Day is this Sunday and we can't wait to shower our moms with gifts, tell her just how much we love her, toast to her with champs and of course, post her all over the 'gram.
But before we get into all of that we wanted to take some time to celebrate all the mamas out there rocking bikinis. We love to see moms (moms-to-be, new moms, old moms, sleepy moms, hot moms) showing off in styles that make them feel their absolute best. Go on, mama celebrate the stretch marks, the c-section scars, the post-baby boobies...we think you're perfect and so do your babies.
So to give a little nod to the moms, we're not only doing a Mother's Day Giveaway, but we compiled a list of some of the hottest moms out there who love baring after baby bodies in sexy bikinis. Give it a read...and be sure to enter the giveaway here!

Kylie Jenner
This mama has been spotted in a bikini since her darling baby girl, Stormi Webster was just months old. And everytime we see the pics of her in a sexy bikini, all we can say is "yaaasss." What we love most about Kylie in a bikini is willingness to try it all. Check her out in sexy one piece styles, stand out neon bikinis, sporty bikini tops, classic triangle tops and her favorite, bandeau bikini tops. We're here for all of it--especially when her and Stromi rock mommy n' me bikinis.
Cardi B.
Kulture's mama is typically slaying on the 'gram in designer fits, but sometimes hot mama, Cardi B. shows off in a bikini. And when she does, we live for it. Cardi has no qualms with showing off all of her pre and post-baby curves in styles that we love. We most recently spotted her in a pretty pink one piece swimsuit and again in a sexy yellow crochet bikini that was everything. Because Bodak Yellow, right?!

Kim K.
Love her or leave him, Kim K. is the mom of four that hits the beach in a bikini and gets everyone talking. Remember the neon green triangle bikini from last year? Committed to booty-baring bikini styles, bold colors and triangle bikini tops, this mama knows how to work it--year after year. We all remember that shortly after giving birth to North West, this mom took to the mirror for a selfie of her "mom bod" in a super sexy white one piece. And just months after having Saint, she hit the beach again, looking fab with her two littles. We can't wait to see what she rolls out with this season. We last saw her in that neon pink sporty bikini and yes yes yes!
Chanel Iman
Model life meets mom life through Chanel Iman. And while we gush over her little baby girl Cali, we also love love love seeing a post-baby Chanel in Turks and Caicos in an array of bikinis. From a one piece swimsuit to a teeny bikini, this mama shows off and we love it. Sporty bikini tops with o-rings, high-cut neon bandeau, wrap around top bikinis, Chanel does not discriminate when it comes to bikini life. And she looks so fabulous--especially when she's smiling with her baby girl in one arm. Werk it mama.
J.Lo
A bikini veteran? J.Lo. She's over 40, a mom of two and looks damn good every time she shows off in a teeny bikini. Most recently this mama was seen in a neon pink triangle bikini and can we just say J.Lo looked AMAZING --abs, sunnies, the look and all. Then we saw her in the Bahamas with her bae A Rod in a pretty blue ruffled bikini and a bold emerald green ruffled bikini. J.Lo likes those ruffles? Both looks were adorable and super hot. We can't wait to see what Emmie and Max's mama rolls out with this summer.
*All image courtesy of Instagram*