Chynna Posted on August 28 2020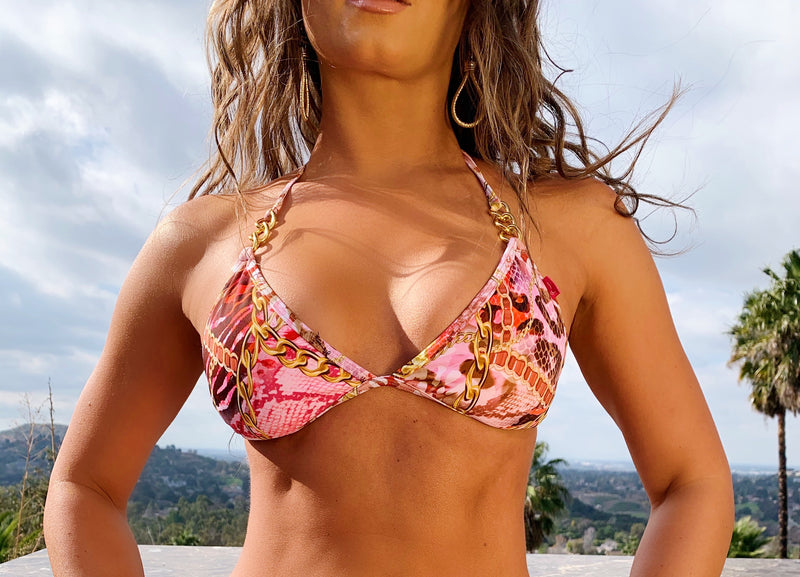 So it's no secret that we aren't all born with big boobies. Some of us long for them, some of us go out and get them and some of us just buy bikinis that make us look like we have them. Here's the issue, though, babes. We know a lot of you aren't always sure which push up bikini is going to give your girls the look or lift you want. That's where we come in. Because besides creating teeny bikinis you love, we're here to help you too!  
Victoria Padded Push Up 
This top is all about lifting! The Victoria Padded Push Up Top, takes the girls to new heights thanks to molded, bra-style cups that are powerful enough to take you up a size or just give you that boobie lift you've been wanting. The fit is halter style so it ties at the neck giving you control of just how much lifting is going down. This padded bikini top is really an essential for any babe with small boobies because it works overtime to transform your look. Oh and it comes in a ton of colors and prints, so you are limited. 
Napa Halter Loop Bikini Top
A newer addition to the boobie enhancing line-up, the Napa Halter Loop Bikini brings boobies together for a full look. The Napa Bikini Top, ties at the neckline so you've got control. But the front design comes together in a way that makes boobies appear larger and far more supported. We not only recommend this style for small boobies, but this is a necessary style for bigger boob babes. The support is amazing and it's super comfortable too. What more can you ask for, right?!
Las Palmas Padded Push Up Top
We launched Las Palmas a few years ago and ever since, babes have been looking to it for a little extra something when they hit the pool or the beach each season. We took the same idea for the Victoria Padded Push Up Bikini Top, but went a little further. The cups are molded, bra-style cups that can work wonders by taking you up a size or giving you serious support if you're a large boobie babe. But what this also does is it gives you amazing cleavage. How? Because you can adjust the front ties to prop up your boobs even more. So the appeal of the sweet bows and the super sexy cleavage takes your look to new places….Promise. 
Or Just Add Padding….
Wanna know a secret? Almost all Chynna Dolls Bikinis are designed for you to insert bikini top padding. That classic triangle top you love so much? Add padding. That's why you'll almost always see a tiny cut-out in the lining of our bikinis. Fab, right?! Adding just a little padding--which we sell--can take your look from itty bitty titty committee to dayum girl in seconds. And that's a fact. The padding isn't bulky. It's comfortable and fits naturally into your bikini top.