Posted on March 02 2021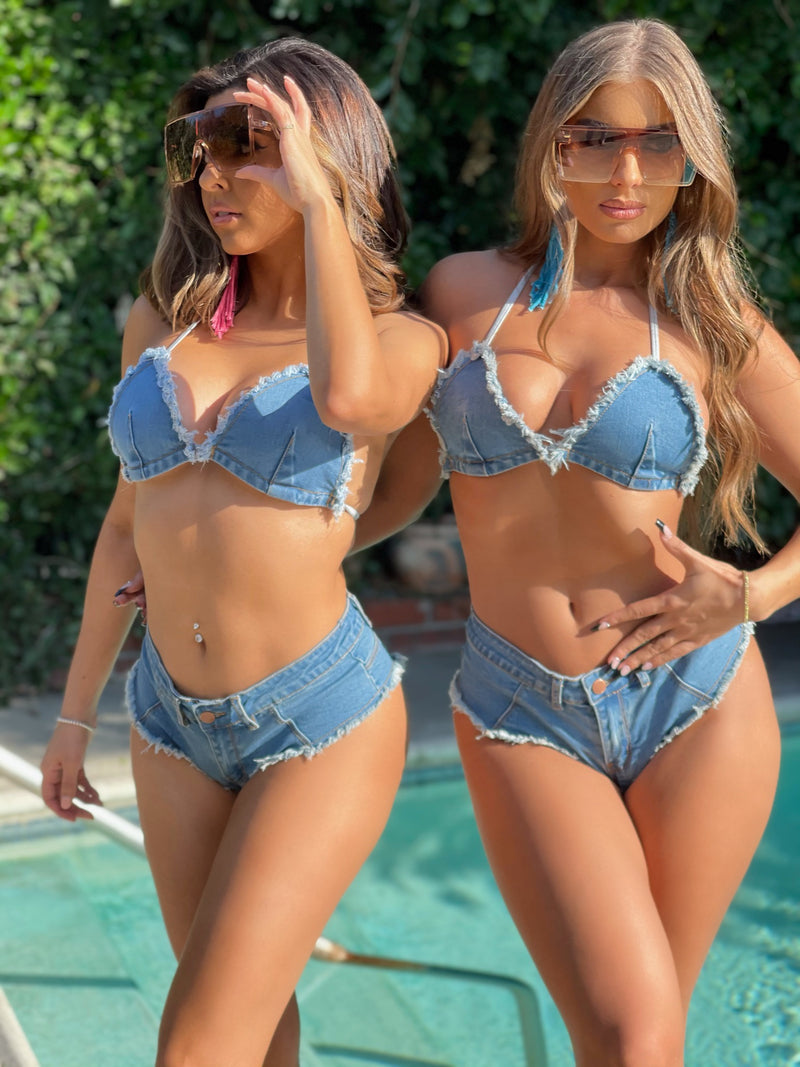 So our new 2021 Collection dropped and no doubt, you want all the bikinis. We got more bold this season with fun tropical print bikinis, a wide range of thong bikinis and some standout monokinis, oh and not to mention, we got creative with texture. And while all the bikinis are worth getting in your bikini season line-up, there's one that you guys can't stop asking us about--the Hollywood Blue Denim Bikini.
Why a denim bikini?
First question is, why would you wear a denim bikini. Our answer? Why wouldn't you? This sweet new addition to our collection is unlike any other. It features a classic triangle bikini top with ties at the neck and back, but it also has unfinished, frayed trim with contrast stitching giving it some edge. The bottoms are like your favorite denim cutoff shorts, but baring waaaaay more booty and without back pockets. What's to love most about this bikini is how unexpected and sexy it is. Sure, you've seen denim print bikinis. We've even done some like the Dijon Overall Monokini and the Malibu High-Waisted Bikini, but this one's more fashion and more of a statement for poolside lounging. 
Does it stretch?
Yes, yes, yes! The Hollywood Blue Denim Bikini is designed from a cotton and spandex blend, so it stretches and forms to your body. C'mon babes, you hate uncomfortable jeans--we know this--so we're not going to give you an uncomfortable denim bikini. This two-piece bikini is probably the most comfortable denim you'll ever put on. The bottoms are super cheeky and sit comfortable at your hips. This particular bikini has been designed to accentuate your entire body. Because of the fabric, your boobies get a boost and because of the way the bikini sits on your booty, it makes you appear shapely and helps that booty pop even more. 
A bikini like no other
The Hollywood Blue Denim Bikini is a bikini like no other for the simple fact that it's basically your favorite pair of jeans--but in a bikini. We already said it, but this is 100% a statement piece and perfect to show up to those day parties or pool parties where you want to look the part, but don't want to take a dip. It's got major J.Lo vibes, and that alone, makes everyone want it. The Hollywood is super sexy, super cheeky and a bikini that you'll have for years to come.