Chynna Posted on August 09 2019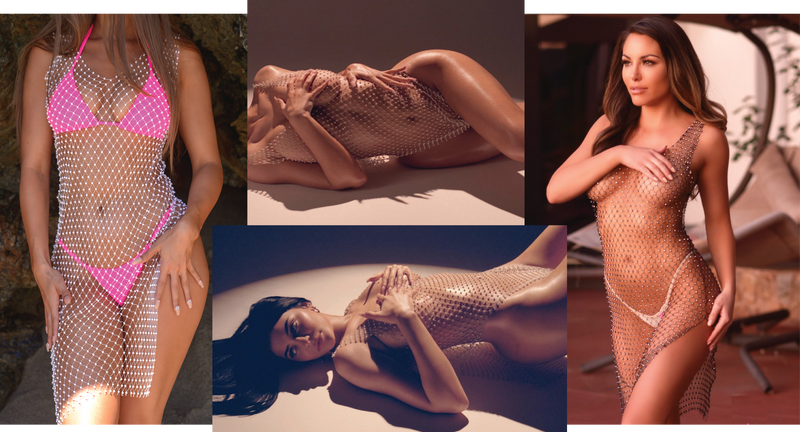 Every now and then something super cute hits and a mega babe wears it, then you're left wondering, 'where do I get that?!' The latest? A fishnet cover-up worn by everyone's fave, Kylie Jenner. 
Last month Kylie launched her skincare line and as part of the promo she got way sexy and rolled out in a next-to-nude rhinestone fishnet cover-up. What happened next? We died. Why? Because rather than having babes ask us and have to tell them sorry, we don't' have it. We already had it. Meet the Moana Rhinestone Fishnet Dress. 
The Moana is decadent and covered in rhinestones with unfinished edges (similar to Kylie's look) and shows off whatever sexy bikini you have underneath. We love a nude bikini underneath...yasss sis!
Oh and if you love the Moana, you'll probably be all about similar styles like the Giselle, a beaded crochet bikini cover-up dress, the Ariel, a rhinestone fishnet cover-up crop top or even the Fishnet Crop Top with the sequined seashells. Check out all of the Fishnet Bikini Cover-ups here. 
Get like Kylie Jenner, babes, rock that fishnet bikini coverup and of course show it off on IG because we wanna see you in it!