Chynna Posted on October 04 2019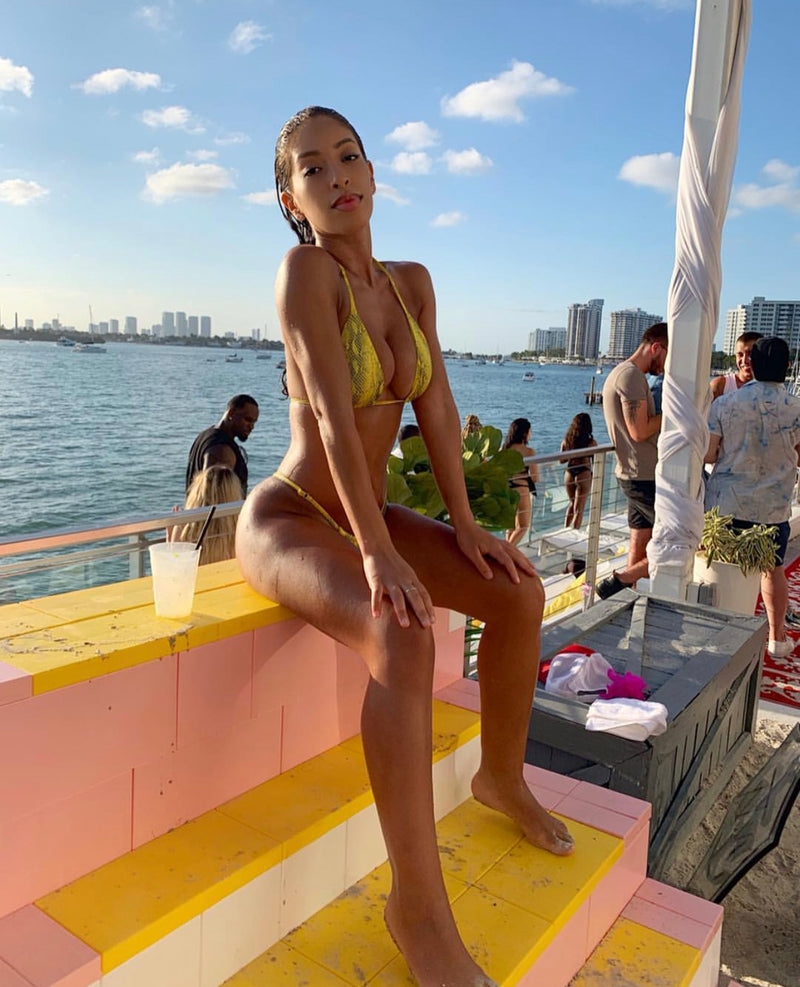 If you've followed us on IG then you've seen us post Miami mami and Chynna Dolls Ambassador, Lynette. She's the hottie who's got a bangin' body and knows how to work those teeny bikinis. Did you see her in the Eden from the Jessica Burciaga x Chynna Dolls collection when it launched?! OMG. Goals. 
We caught up with this busy babe and learned a little bit more about her. Bottom line, Lynette is the kinda girl who knows how to have a good time. She's always down to laugh, needs music no matter what, hates bugs, is skincare obsessed and lives for those bikini days. 
Did we mention Lynette came to visit us when we were in Miami to show some bikini love? Just another reason to keep up with this babe!
Bikini or one-piece and why? 
Hmm this is a hard one but I'll have to go with a one piece! I love how one pieces still look sexy even after eating a whole lot of food lol
What do you do to feel your best in a bikini? 
To look best in a bikini, I like to hike up the sides to show more hip- the more hip, the better!
What style do you love most?
The style I love most are high-waisted, regular ties, or a scrunch bottom to show off the booty 😝
What do you love most about Chynna Dolls?
Chynna Dolls uses great quality material on top of having cute designs! (Quality is super important for me and for other women who need extra support on top).
You're a Miami girl, so what's the ideal bikini day for you? 
My ideal bikini day has to start with some sunblock and water- both are a must with this Miami sun to keep your skin healthy and glowing!
Favorite beach in the world?
I haven't visited enough nice beaches sadly. So, I'll tell you the beach I'd loveeee to visit one day: the Maldives (might have to wait for that one lol).
What's the best vacation you've ever been on? 
The best vacation I went to was on a spring break with close college friends to Cancun, Mexico- it was filled with so many fun, spontaneous, and carefree moments. Sometimes people try to plan too much or set high expectations for trips, and this was more of a "let's see what we get into today!" kind of trip.
If you're not in a bikini, what are you doing? 
If I'm not in a bikini, I'm most likely doing something skincare/hair care related while FaceTiming my sisters. They always laugh when I answer the phone with some kind of goop on my face (fyi my kitchen is my laboratory for natural face and hair masks lol). 
If you were stranded on a remote beach what 3 things would you take with you? 
If I was stranded on a remote beach, I'd take with me a playlist of my favorite music (a must if I'm going to be stranded by myself), unlimited supply of matches (because I'm thinking logically about my survival on said beach lol), and finally bug spray (insects- just no. I'm good.) 
Poolside or Beachside? 
Sometimes pool, sometimes beach- depends on my mood and how nice the pool or beach is!
Word you live by...
The words I live by are "everything happens for a reason" ...it's nice to believe that there's a grander reason for why things happen.
Finish this sentence:
Bikinis go best with confidence! (corny but very true 🤷🏽‍♀️️)
Show Lynette some love ❤️. Follow her @mindlike_hatsheput