Chynna Posted on May 01 2019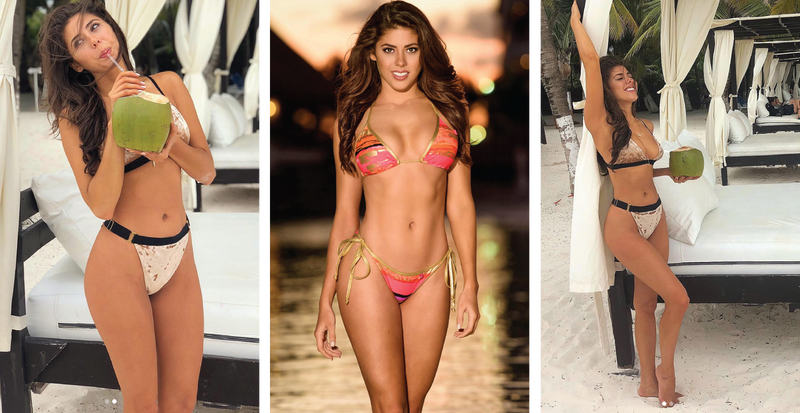 Last October Chynna Dolls was there to witness something incredible--bikini babe, Sierra Nowak taking the crown at Swimsuit U.S.A. We've known Sierra for awhile and since she's basically a bikini queen, we felt who better to chat with than her? 
Like all of our faves, Sierra dishes on what she loves most about bikinis and the words that guide her, but she also talks about how it felt to win Swimsuit U.S.A. In that surreal moment this beauty took her crown and showed off what she was working with. We couldn't be more excited to share a little bit about her with you!
The question everyone is asking right now—bikini or one piece?
That is a hard one! I used to be bikinis all day everyday,  but these super cute cut out one-pieces are winning my heart. I guess it depends if I have potential to get tan lines, then I have to stick to the bikini! lol.
We know your collection is probably major, but roughly  how many bikinis do you own?
Oh wow, I have 2 dressers completely filled with nothing but bikinis. I would say I have at least 100. I keep them all in zip lock bags to keep it organized and as compact as possible.
You're in a bikini year round...how do you stay bikini ready?
My acting/directing career has gotten crazy busy, so I have very little time for the gym these days. I've totally changed from 'eat whatever I want and work out everyday' to eating super clean-- almost a vegetarian diet 90% of the time and working out twice a week. Diet is everything for a bikini bod!
What bikini style do you love most (triangle, high-waisted, bralette, sporty etc.) And of course, why?
I love a high-cut bottom with a triangle top, the velvet set is my favorite! I also love an asymmetrical one piece with a keyhole.
What do you love most about Chynna Dolls bikinis?
The fit! The styles are always super trendy and the fit is on point for girls who are in shape but still have curves.
Tell us about how you felt when they called your name as the winner of Swimsuit USA
I still can't believe I won--that moment was so surreal. It was years of hard work coming to fruition. I would have to say a feeling of shock mixed with gratitude!
What's been the best thing about having won Swimsuit USA?
I love that I get to work with Kathy throughout the year. I am going to be traveling to Vegas, Houston, Bahamas, Mexico, South America, and who knows where else judging prelims and representing the organization!
Have you always been a bikini lover? What influenced this?
I have loved bikinis since I was a little girl, growing up in Ohio you really learned to appreciate the summertime and I was in a bikini at the lake any chance I had!
What's your beauty secret?
I don't use any chemicals on my face, only black soap and raw African shea butter. This was a game changer for me.
Favorite beach in the world?
I love Crash Boat beach in Puerto Rico. The water is calm and clear and there's a ton of food carts and even a cliff to jump off of!
If you were stranded on a remote beach what three things would you take with you?
African Shea Butter (moisturizes and protects from sun damage)

A journal (I could probably write an amazing TV Series with some uninterrupted time)

Some form of a water purifier (gotta stay hydrated! lol)
Words you live by...
You never know unless you try, no excuses.
Finish this sentence: Bikinis go best with ______.
...a great tan