Posted on September 09 2019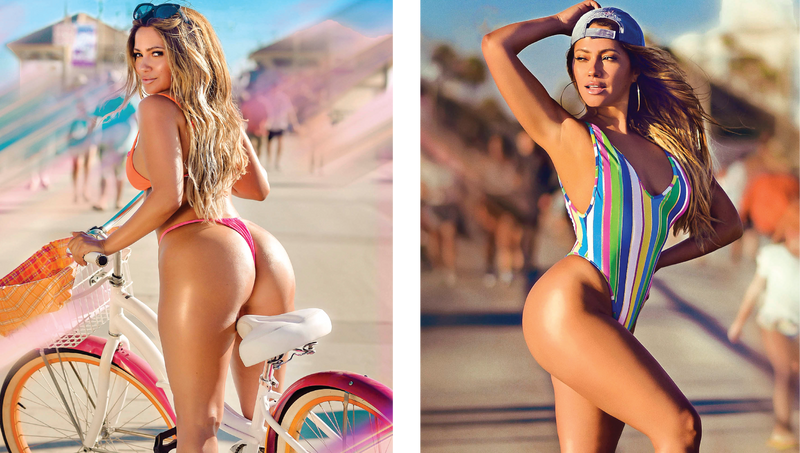 You may know her as the born and bred SoCal babe with the infectious smile, the booty we're all squatting our asses off to get and the bikini collection that's brightening up the 2019 'kini season. We know her as Jessica Burciaga--our very own bikini babe. She just launched her second collab with us and we couldn't be more excited about her and the looks and to see all of you in it this summer.
For this second collection Jessica borrowed from the 90's, but worked with us to add her signature super sexy twist. While last time it was all about high-cuts and texture, this year it's all about bold color, luxe finishes, thongs and other booty-baring looks. Um hello, babes, have you seen the Eden Itsy Bitsy Thong Bikini? It's adjustable and cute AF. Jessica wanted to give all the Chynna Dolls babes a chance to learn more about the collection from her. So read on and follow Jessica's instructions to 'embrace your body, embrace your curves and don't give a damn about what anyone has to say. It's your season...own it!' Got it, babes?
Babes are living for the neon this summer, what feeling does it evoke for you?
Wearing a neon bikini makes me feel sexy, happy, young, youthful and extremely tan LOL! To me, it really just shows confidence.
What's your favorite piece from the collection (and why)?
My favorite piece is probably the Eden in Yellow Venom. I've never been super confident wearing a thong in public, but I've been working my ass off in the gym and I promised myself I would rock a thong all summer at the beach and on vacation. I just feel extra sexy in that one!
Describe the ideal day in a Jessica Burciaga X Chynna Dolls bikini...
The ideal day for me would definitely be somewhere in Cabo at a resort pool with an ocean view while I layout, sip on margaritas and munch on chips, salsa & guac and just forget about everything...
It's all about how you feel in a bikini. What should girls feel in your pieces?
I want every girl to feel confident in my collection. Everyone is so body conscious right now and extremely hard on themselves. There's so much pressure to look perfect these days, I just want my girls to forget about all that, embrace who they are, throw the thong on and say fuck it. You're only young once!
What are three words that you'd use to describe the collection?
Sexy, Flirty & Fun!