Chynna Posted on March 27 2018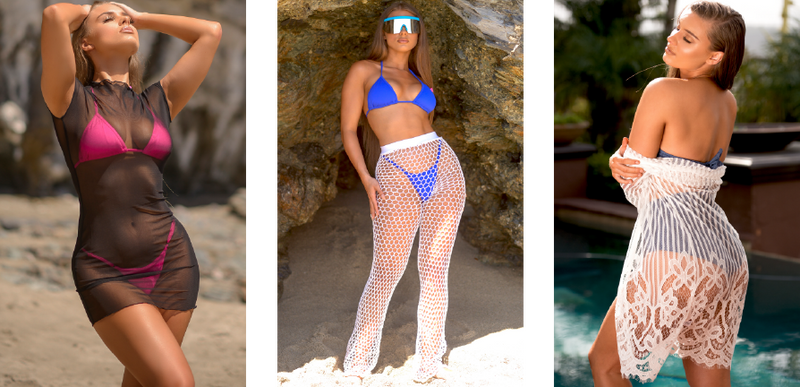 Warm weather looks are all about how you pull them together. And sometimes what you wear over your itsy bitsy bikini is just as important as the bikini itself. Babes like you, who shop Chynna Dolls are always on the lookout for beach cover ups that are, sexy, but still ranking high in the style department. We already know. Frumpy, oversized bikini cover ups just won't do.
With festival season coming quick, you'll be a desert babe in pieces like the Melrose Crochet Dress in black. The large, open-knit loops keep you cool and the silhouette remains relaxed, but comfy. Oh and those side slits keep it sexy AF. Rock it with a brightly colored 'kini top (maybe the Laguna in Neon Green), some booty-skimming cut-off denim shorts and combat boots. Hey, Coachella, cutie.
The Vegas dayclubs are fully opened and operating. But there are rules. Our favorite: no walking through the casino in your 'kini. We get it, but we aren't going to suggest you sacrifice your look either. The V Pattern Crochet Dress is the best bikini cover-up for all the dayclub dolls. This super cute mini style has a body-hugging fit combined with intricate hand crocheted work, a plunging neckline and sexy cutouts in all the right places. Throw this on over your hottest 'kini (Tahiti, anyone?), your wedges and get ready to get turnt.  
From beach to brunch with your besties in our best cover up yet--the Beverly Crochet Maxi. A midi silhouette goes full on sexy beach cover up with a V-neckline and micro knit metallic detail throughout. The inverted chevron pattern makes you look long and lean and the soft blue shade is to-die-for. We say pair it with your fave flat sandals and over a lighter colored bikini like the Venice Golden Pineapples or rock it with wedges and hoops for a look that's a little more glam. More sexy than boho, this isn't your grandma's knit.