Chynna Posted on April 25 2019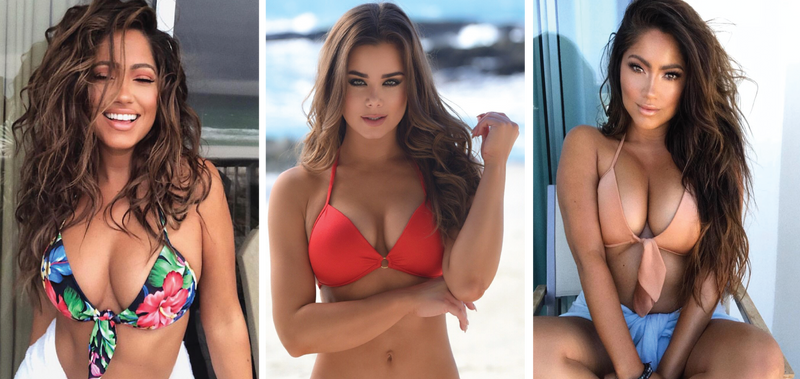 It's no secret. The best bikinis are the ones that fit well. And the ones that make your body look bomb no matter what. We've waxed poetic about bikini bottoms in the past--cheeky bikini bottoms, thong bikini bottoms and more.
We've also schooled you guys on triangle versus bralette bikini tops. This time, we want to give you the game on push-up bikini tops--why we love them, why you should love them and which are our faves.
What's a Push-Up Bikini Top?
Just like your fave push-up bra, this bikini top works to enhance what you have or even give you something extra. Unlike a traditional triangle bikini top where you can add or remove padding, push-up bikini tops feature molded cups built into the bikini. In other words you can't remove the padding. Inside of the bikini top, you'll find soft, comfortable foam padding that's shaped in a way that'll create maximum cleavage and a fuller look up top. The padding is so legit that your  boobies go up a full cup size everytime you wear this style. P.S. these styles are super supportive and comfy, so you won't have to worry about straps digging or not being able to adjust the fit to your bod. Each push-up style features adjustable ties at the neck and back--remember, babe, you're in control.
See It. Like It. Push It.
You know we come through with the styles when it comes to push-up bikini tops. If you're looking to have even more control over the cleavage and balance all that extra boobie you're working with, try a style like the Las Palmas. Why? Well, first off, it's cute and sexy. Second, it features a self-tie front, so you can bring the girls together as much as you'd like. Hashtag, controlla. Our classic, Victoria Push-Up Bikini Top is a go-to with fully molded cups and a center o-ring detail. The styling is more of a halter, which also works in tandem with the molded cups for more cleavage. The Persia is very similar to the Victoria (which is avail in a ton of colors and prints), but it has decadent chain detail.
Baby, Werk It.
One of the major benefits of a push-up bikini top is you don't have to worry about your tatas not looking their best poolside. Whether your a busty babe or not, this gives you the lift you want. And if you grew your own or got a little help from the doc, Chynna Dolls padded bikini tops, keep the lift looking natural and sexy. If you're a babe with teeny tatas, don't be shy to try this style. Believe us, this is for everyone because it only enhances.
See how it rates on our scale to know if it's perfect for you.
Big tatas 💗
Teeny tatas 💗
Good for tanning ❌
Cute with cover-ups 💗
Supportive 💗
Comfortable 💗