Chynna Posted on September 24 2018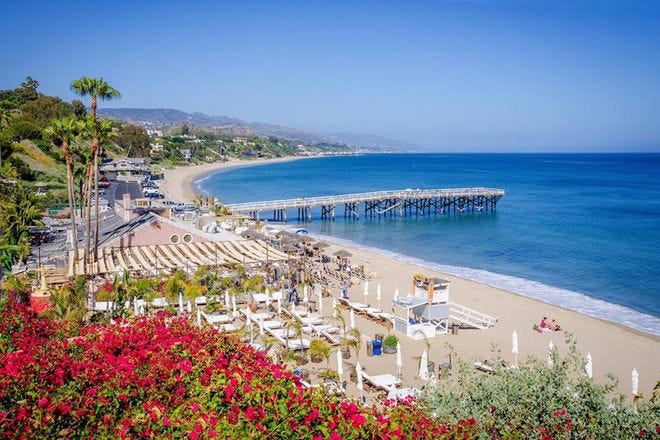 What's the first thing that comes to mind when we say Malibu? How about a decadent stretch of LA beach that's peppered with some of our favorite restaurants, major hotties, exotic cars and hangout spots that cannot be beat. So for those of you ladies who want to explore one of our favorite locales. Here's a little inspo. And yes, you can wear your cute lil Chynna Dolls One Piece as a bodysuit all around town.
To Be Seen: Nobu + Mastro's Ocean Club
It's almost a must that you hit up Nobu when you venture up the coast to Malibu. If for nothing else, the vibe is a mix of sexy LA scene meets beautiful beach feels. Call ahead and score a reservation on the deck so you can sip rose, snack on Crispy Rice while the waves crash and the tide comes up just a few feet away. This--and Mastro's Ocean Club--are gather your girls or run away with bae for the day kinda spots. And bring your A-game because you want to look the part. We recommend going classic and showing off in the St. John in Olive with your favorite bottoms for a beachy chic look. Photo by Nobu
To See: El Matador State Beach
If you keep u with us on Instagram, you saw our boo @missjackson snap some FIYAH shots in the Santorini One Piece from the Naz Collab, so you already know this place--El Matador State Beach--is magical. Loaded with natural rock formations and caves, it's a top spot to get gorge photos as well as enjoy the beauty of the California coast. You babes will find picnic tables and trails leading from this beach to the next. It's for real, a magical place to hang and we highly recommend it for any beach babe looking for a little beauty. Photo by California Beaches
To Eat: Malibu Farms
You've probably seen blogger babes posting Malibu Farm on the 'Gram and we're here to tell you that those posts are for sure warranted! We freaking LOVE this place. It's supes cute and right on the Malibu Pier. The interiors are beachy and everything you'd expect from a spot in Malibu. The other thing to love about it? The food--especially the BLT Kale Caesar. And yes, there are cocktails on deck. Pretty ones too. After you've spent a few hours eating, chatting, sipping drinks and whatnot, you'll want to experience the cutest pop-up there and maybe leave with a little memory of your Malibu experience. Fab, right?!
To Do: Malibu Wine Safari
A giraffe in Malibu? Yeah, it's a real thing. For any babe who's heard of Malibu Wine Safari, you know that Stanley the Giraffe is the guy that all the girls are trying to get a pic with. But a trip along the Malibu Wine Safari has more to offer. It's a fun and exciting thing to do with your best girls as your roll around, feed animals like zebras and goats and sip local wines. Is there anything more fulfilling? We think not. Take an Uber with your crew or a limo and make a full day of it. If you still want more after that? Head over to Malibu Wines to experience their tasting rooms and picnic space. You and your girls are gonna love this...promise! Get wild here...rock the Aliza in Leopard...because why not?!
To Stay: Calamigos Guest Ranch + Beach Club
If you're just really feeling the Malibu vibe and want to make it an overnight kinda thing, head to the Calamigos Guest Ranch + Beach Club. This spot is tucked into the Santa Monica Mountains and just a little ways down to the beach. It feels secluded and super luxe with adorable little suites, bungalows and cottages for you and bae or your babes. There's a pool on site, a gym, a wellness center and a beach club not too far off. We are all about the rustic chic this place is providing and consider it an absolute must in Malibu. P.S. Pack cute 'kinis like the Las Palmas for this place.