Chynna Posted on October 16 2019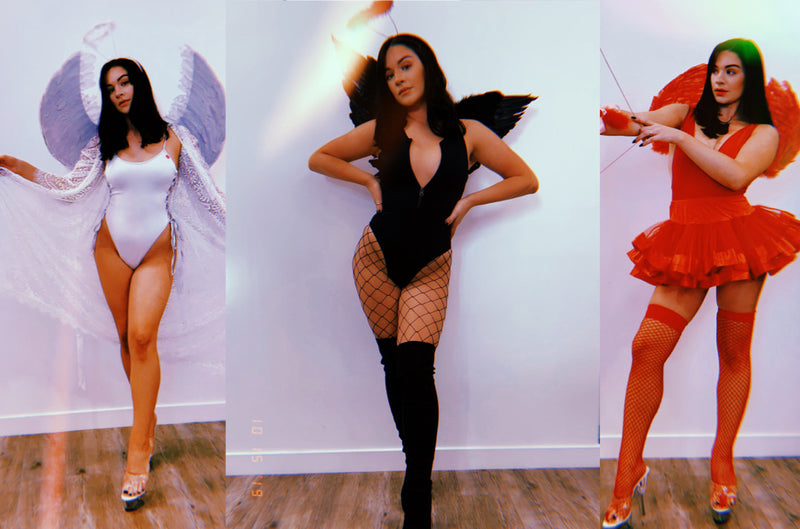 Who loves Halloween? We do. But what we don't love about Halloween is the annual stress of having to find the perfect costume. Between trying to top last year's look, trying to be unique and making it good for the 'gram, we get exhausted. And we're sure you do too. So, we figured out how to put the fun--and the creativity--back into your Halloween costume situation with DIY costumes centered around monokinis! Basically put together your whole sexy Halloween costume in 5 minutes. Genius, right? Just wait til you see the looks (and check out our Halloween shop). 
BUNNY BAE
Who doesn't love a bunny Halloween costume? Keep it simple and cute tho. Pair the black Aliza with fishnets, bunny ears (duh), gloves and some over the knee boots. Boom. You've got bunny style that's cuter than Regina George's. 
CUPIDE CUTIE
The St. Martin Monokini does it again and makes costume life a lot easier. Roll through the party and spread love in a red St. Martin, a big fluffy tutu, red wings, sexy red thigh-highs and of course--your bow & arrow. Done. You're a vision of love--in a little red bikini.
BLACK SWAN/DARK ANGEL
Head over to the dark side. Make it a dark angel kinda night or add a tutu and go dark swan. All you need is the Selma in black, the perfect set of wings, fishnets and a little bit of attitude. All black everything and we're here for it. 
SECURE THE BAG
For all the babes who're all about that money, dress like it this Halloween. Pair the Mykonos in black and gold, thigh-highs, little gloves--bc you're not gettin' your hands dirty--a bandit mask and a bag full of money. When you're all about the cash you don't have time to stress over a costume, right?!
ANGEL BABY
Show of your innocent and pure side with as an angel. The Key Biscayne with lace up sides is perfect monokini starter for this look. You'll need big white wings, a halo and maybe even a lace cover-up. What a sexy little holy Halloween costume. 
MAID FOR YOU
Everyone loves a sexy French maid costume. And with the Aliza in white you've got it made. Take that monokini along with a black and white tutu, the right fishnet thigh-highs and little lace details and that's it. Costume party ready--just keep it clean. 
AND MORE...
The Halloween bikini costume looks don't stop there. We've got accessories for days--and all of our one piece swimsuits are a perfect match. Make a mermaid look with the shell bra, bring in some rhinestone fishnets for added glam, be a Real Housewife with the perfect headband, go unicorn babe, even 80's fitness babe with the Naz and fun socks. Mix and match any of our accessories with your fave monokini. Hello DIY costume kit! We've got traditional costumes too. Like this sassy Cougar set. Happy DIY Halloween, Babes!