Chynna Posted on June 04 2019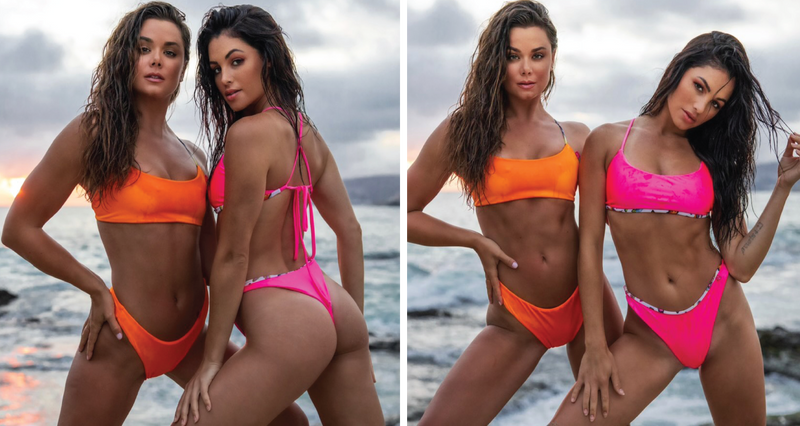 In case you didn't already know, neon is life this season. You've seen all the babes on IG showing off in crazy cute neon bikinis and we're here for all of it. Last season we chatted about Kim K. and her neon green bikini that was taking the internet by storm and this year, we're at it again because we cannot get enough of these bold and sexy shades.
When designing our 2019 Chynna Dolls Bikini collection, we already knew that neon was gonna be everything, so we leaned into the trend and had some fun with the styles. Of course we rolled out with the classic triangle bikini top in a ton of neon colors, but we also had some fun with neon bikinis and used neon pink as a trim, we did a fresh fun take on the Verona in salmon and neon green for the Jessica Burciaga collection. We launched the Delano in neon pink and played with neon shades as prints for faves like the Tropical Butterfly print.
We know, we know, shopping Chynna Dolls can have you wanting it all (and you deserve it all), but to help you out, here are some of what we think are sexy neon bikini must-haves for the season.
DOUBLE TROUBLE
Get you a monokini that can do both? Say no more, babe. The Verona High Cut Monokini is an all time fave for babes because it's good enough to give you the best of both worlds. Get hot hot hot neon shades and a look that's everything you ever wanted. It's perfect enough to show off cleavage or underboob, it shows off the right amount of skin (the same way a bikini would) and it's got a scrunch butt and a criss cross back. Perfection, really. And the colors. Go neon pink and yellow or salmon and neon green. And p.s. This one looks so good on the 'gram.
CUTIE IN THE CADIZ
Extra? That's how we like it! The Cadiz String Bikini goes full-on glam babe life because it's covered with mini white sequins, but stay super on trend thanks to the bold neon pink trim. You know that you were born to stand out and you can for sure make it happen in this 'kini. Tiny fit, scrunch butt bottom, classic top with ties at the neck and back. This has it all and transitions from day look to super cute summer night style.
TEMPTATION NATION
If you follow us then you know, babes are all about the Eden Itsy Bitsy Thong from the Jessica Burciaga x Chynna Dolls collection. Why? It's the sexiext thong we've made, the fit is fabulous, Jessica is behind it and it's neon AF. Coming in three super sexy bold shades--hot pink, royal blue and yellow venom, this thong bikini defines booty-baring on the beach. The color is so striking that you'll want to live in it. With a good tan and that bikini body you've got, you're gonna shut down supper in this.
THE DOTTED LINE
Polka dots got a legit upgrade with us this season. We went lowkey 90's by mixing a neon green background (because everyone is dying for a neon green 'kini these days) and added bold black polka dots and a black trim. This is a standout look because it's cut in two of everyone's faves--the Venice and the Laguna--and the colors just pop. Imagine you with your tan, your cute sunnies and this bikini sipping a cocktail by the pool. OMG...yes.
ONE AND DONE
And then it's all about the basics. If you skip every bikini we've mentioned, it's all good babe, but you've got to add our neon basics to your collection. Available in every way you could want them--side tie, adjustable, bralette or triangle--these are the staples. But the little black bikini on hold for a few weeks and get these on repeat. Go neon pink, neon orange, neon green bikini in whatever cut you love most--the Rio thong, Laguna string bikini, Venice micro bikini, Hermosa double string bikini. You pick. You're in control. Babes are living for these mix and match neon styles. So go for it. Make your summer a little bright and a whole lot sexier.