Posted on March 11 2018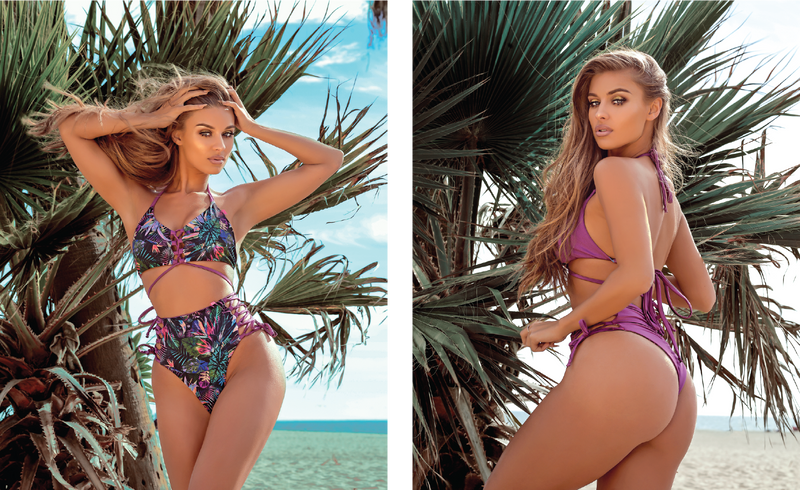 Spring Break is coming, Babes. And besides deciding how to spend that carefree week, you need to know what to wear. For a real Chynna Doll, that means wearing an itsy bitsy bikini all week long. No matter if you're hitting up the Las Vegas pool parties, laying out on the sand in Miami, getting your party on in Cabo with your besties or staying local--but still seizing the chance to wear a sexy swimsuit, we've got you.
Our site is loaded options--we know--but here are our top three picks for Spring Break--where to wear them, what you'll love about the styles and how they fit. xo
Let's go to Mexico
If you're heading south of the border--to Cancun, Playa del Carmen, Cozumel even Cabo, you want a look that says beachside babe. Our pick? The Lyon Sporty Top in Candy Stripes with either a traditional side-tie bikini bottom with a scrunch butt or an on-trend high-waisted bikini bottom also with the scrunch butt. C'mon, you know we always keep it sexy.
What's to Love: The super sporty throwback look, the colors and the fact that it transitions from beach to lunch date, is what you're going to love most. Ideal for hanging out and drinking margaritas on the beach, this suit has a crop-top inspired top that's laced with a little bit of sexy. Everyone knows stripes are in for Spring so remain on-trend even on the sand.
How's the Fit: The fit on this is primo because if you're looking to show a little or a lot, you can. The sporty top gives enough coverage--and it's adjustable, but also delivers balance if you want to go for a skimpy bikini bottom bearing our signature scrunch butt detail. The high-waisted bottoms remain sexy--so don't get it twisted, babes. With a banded waist, these bottoms are slimming even though they aren't low slung. And of course, they have our scrunch butt bikini bottom detail so you're still showing some cheeks.
https://www.chynnadolls.com/collections/2017-arrivals/products/lyon-candy-stripes
Miami-bound Babes
You and your besties have booked the room with the ocean view, so you're gonna need a sexy bikini that offers the best view too. Right?! Fresh from the 2018 collection, the Rio T-back Thong Swimsuit is the itsy bitsy bikini to bring.
What's to love: The print! This mix of colors screams South Beach with a pretty pink as the backdrop for bold, summer-y palms in a rich kelly green. Oh and there's gold hardware, so this suit features touch of glam too.
How's the fit: You know the saying, less is more? Well that's those are the words that inspired this style. The top is designed with a T-back so it's light in the support area with self-tie closures at the back. And yes, it's adjustable so the girls are always in place. The thong bikini bottom is super minimal, with no coverage on the back so you're free to show off your best assets.
https://www.chynnadolls.com/collections/2017-arrivals/products/rio-t-back-thong-swimsuit-in-tropical-foliage
When In Vegas
For you babes spending some of your Spring Break in Sin City, bring your A-game and this sexy cutout one-piece swimsuit. You want to be as hot as the temperatures and super cute whether you're at Wet Republic, Encore Beach Club, Daylight or Marquee. Rock the Verona and take your place as a poolside princess.
What's to love: Besides the pretty pink stripes, you're going to die for the majorly sexy vibes the Verona is bringing. It's got that 80's inspired styling that is so HOT right now. And this sexy swimsuit is like wearing a one-piece, but not because it got that skimpy bikini feel and shows off pretty much everything.
How's the fit: The fit is as sexy as it gets. Verona features our signature scrunch butt, but it has a high-cut leg, giving you legs for days. The one-piece style leaves almost nothing to the imagination with a front cutout that gives underboob cleavage and a criss cross back. This fit is not forgiving, so be ready to show all that work you put in at the gym with this one.
https://www.chynnadolls.com/collections/2017-arrivals/products/verona-80s-inspired-high-cut-swimsuit-in-baby-pink-and-white