Chynna Posted on July 11 2019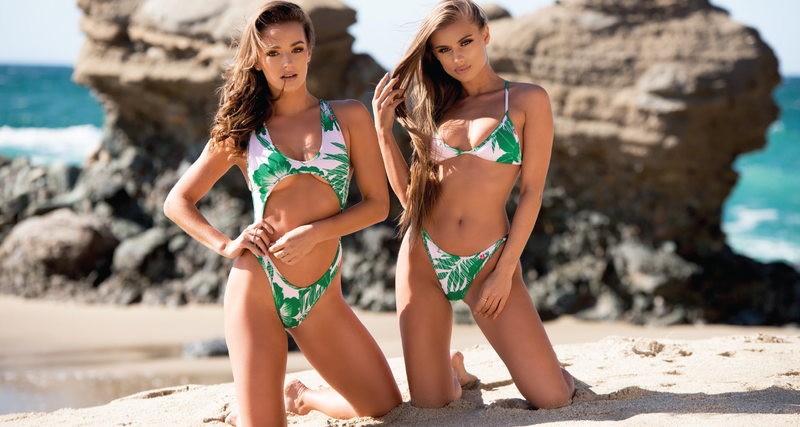 You know us babes, we do a lot of things. But there's one thing you may not know about us...we do custom bikinis. Yes, you read that correctly. We can create the bikini of your dreams in just a short amount of time. We're all about giving you the bikini that you want and the one you feel most fabulous in. 
How It Works:
Transform an Existing Bikini: 
So, if we've got a bikini and you love the cut, but wish it came in a different print or color, we make it. If you see a bikini but would rather have a pink trim instead of a black trim for example, we can do it. If your boobies are on the larger side and the tops you're picking just are fitting the way you want, we can make a custom top just for you. Pretty much any adjustment or change you want to an existing bikini, is a cinch for us. Our in-house team of seamstresses know what's up and our warehouse is a bikini-babe wonderland with colors and prints galore. The cost? It's $25 per piece plus the cost of the bikini or $40 for a monokini plus the cost of the one-piece. And boom, within two weeks, you've got a Chynna Dolls one-of-a-kind bikini. 
Design Your Own Bikini:
We don't just update the bikinis that we've already created, we can take it to the next level. If you're a bikini competitor and want a super cute and sexy custom competition bikini--we got you, girl. Bring in a pic of a bikini you'd love to rock, but can't find anywhere, Chynna Dolls can make it for you in the print or color you love most. Or let's say you had an idea for what you believe is the most bomb bikini ever, we'll make it. 
Our main boss babe and designer, Heather will work with you to create the bikini you've been daydreaming about. And keep in mind, this custom bikin is designed to fit your body perfectly. How so? Because we'll take your measurements exactly as well as chat about what you want to accentuate and what you want to mask. For designs or patterns that aren't our own, pricing starts at $25 and can go up depending on the complexity of the design. A little time passes--two weeks to be exact--and your design is a reality. The odds of another babe having your bikini at the dayclub or beach is slim to none when you go this route.  
Why Go Custom:
Sometimes you want something that no one else has or maybe you are craving a color combo that we have yet to roll out with. So here's your chance to get exactly what you want from a bikini. And besides the fab fit, you get to brag and say you designed it. How dope is that?!
If you're interested in getting a custom bikini, email us support@chynnadolls.com and you'll hear back from us within about 48 hours.