Chynna Posted on March 06 2020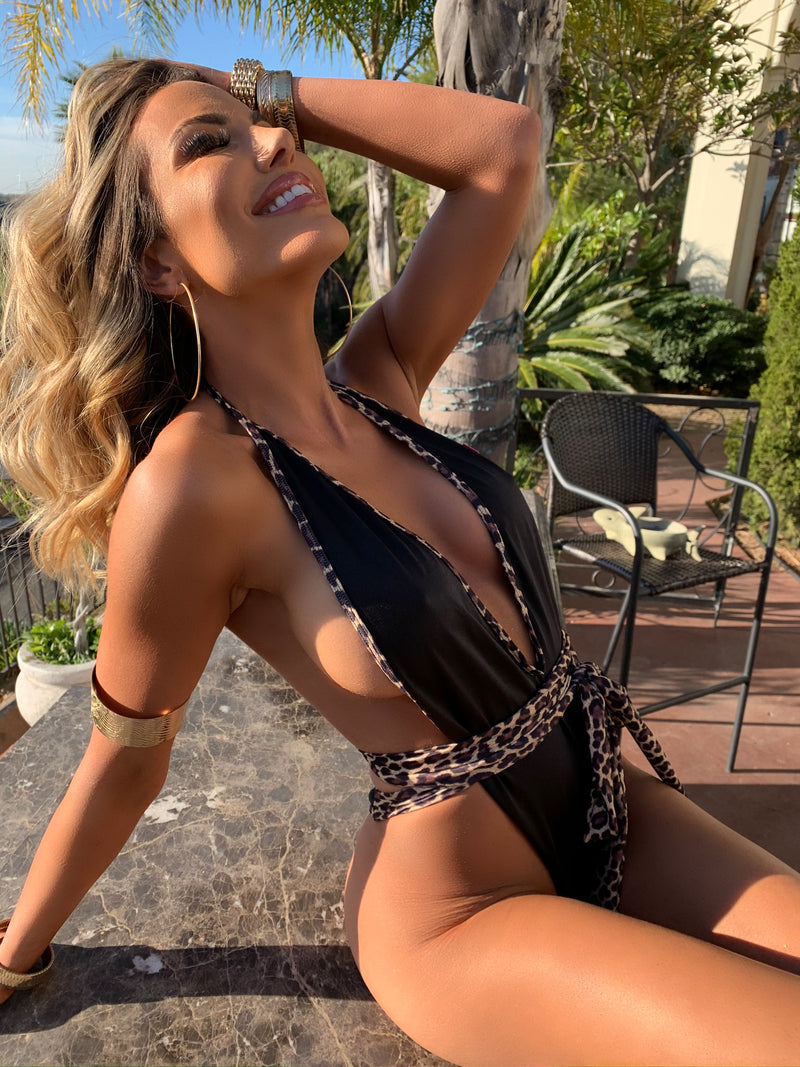 Elizabeth Smith is not your average babe. You've seen her in some of your fave Chynna Dolls bikinis and making the whole team laugh during our behind the scenes videos with her wild ways. But when Elizabeth isn't wowing us with her beauty in sexy monokini, high cut bikinis or an animal print thong bikinis, she's connecting with her audience on Instagram, dedicating herself to her fun fitness routine and committing to become the best version of herself from the inside out. It's hard not to love Elizabeth.
She never takes herself too seriously, her smile lights up a room, her laugh is infectious and she's oh so real--just how we like it. So, if you're not already keeping up with her on IG, do it now. She looks to her followers for feedback and she shares those real life moments as much as she shares those real funny moments. Here's your chance to read up on one of our fave bikini babes. She's way more than a pretty face--she's an amazing person!
First things first...Bikini or One Piece? 
Both! A two piece bikini is my favorite to sunbathe in, but a one piece can be really versatile if you throw on some bottoms and are going from the beach to restaurant or even a club later 🙌🏽
How'd you get started and what do you love most about modeling bikinis? 
Initially, I just started shooting with local photographers in my hometown of Jacksonville, Florida. I never really thought or knew that one day I'd be so blessed to travel the world working as a professional model, but that's how it happened and I'm so grateful. Being a Florida girl I've always loved bikinis & the beach! Especially with our humidity, it's nice to have an outfit that embraces the environment 😂 But anytime I throw on a swimsuit I immediately go into vacation mode, so it's no wonder that they're my favorite to shoot in.
What challenges have you faced along the way? 
I've had many opportunities that have helped me grow as a model and as a person but I'd say the best opportunity has been learning to love and accept myself the way I am. There's so many different versions of what beauty is and what it looks like, but the only thing that truly matters is how we see our beauty and how we love ourselves.
How many bikinis do you think you own? Oh my gosh 🤯 I still have no idea but it definitely has three digits 🙈
We love watching your stories--especially your workout fits. How do you stay bikini ready? 
Well, I actually love going to this fitness class in West Hollywood called Bünda; it stands for "butt" in Portuguese. I've been dedicated to it for almost a year now. It's 50 minutes of half stairmaster training and half resistance training. I literally leave class drenched in my own sweat! I go almost 3-4 times a week and it's just become a part of my physical and mental health routine. Being in Los Angeles we have a lot of opportunity for physical activities to stay healthy and also a lot of healthy food options, so I try to balance the two but don't get me wrong, I also enjoy my sweets on the regular but I tend to go for dark chocolate or organic options (you know, balance 😂 ).
What does day in the life of Elizabeth Smith look like? 
Every day can be pretty different since I don't have a normal 9-5 job so work and daily goals are constantly changing. However, because I'm a creature of spontaneity, but also of habit, I try to balance the two by keeping certain rituals in my day to day routine. This includes making my bed every day as soon as I get up, 20-30 mins of affirmations for a positive mindset, eating a healthy breakfast for fuel, drinking a cup of apple cider vinegar as a detox and also a hot cup of Lion's Mane which helps keep my mind at ease throughout the day (this mushroom has so many other amazing health benefits by the way), and every other day going to my fitness class or at least a hike on Runyon.
You always keep it real on your IG stories. What's the deal with that?
It comes really natural for me to just be me 🤷🏼‍♀️😂 I take myself seriously when the time calls for it, but I also don't mind letting people see the "unfiltered" version because I personally don't believe in living with a mask on ALL the time. We need to breathe and when you're able to take the mask off I feel you can truly live in a state of self love without seeking the approval from others for that. However, I'm learning that not everything needs to be shared and if it comes from a place of good intentions than why not share it? I feel it's so much more relatable and oftentimes I get amazing feedback if it's regarding a real life situation which actually helps me learn new ways of thinking or seeing life.
What do you like most about Chynna Dolls bikinis? 
I love the array of bright colors, daring prints, & crazy cuts from Chynna Doll bikinis! I feel I'm always surprised by the next bikini I throw on & get this instant burst of "here I am world, look at me!" 👸🏼 There's so many options & different vibes with each that if I was going on vacation then I could literally pack at-least one for each mood of the week..actually each mood of the hour 😂
We're all about travel...duh. What's your absolute favorite place in the world?
That's tough to answer because I haven't been everywhere yet and I honestly have found so much beauty and little things to be grateful for in each place I've traveled too. But for the sake of staying on topic, I'd say any place I can pack my Chynna Doll bikinis & dance under the stars to the beats of the ocean & some tropical deep house 💃🏽 🏝️
Who would you invite to your fantasy beach party?
Living or dead. I'd invite anyone who loves to laugh, doesn't mind getting sweaty and sandy, and just down to have an amazing time no matter who or what's there! Energy is contagious and I only want positive loving energy around myself & others 🥰
What's the best piece of advice you've ever received?
Go to sleep with gratitude & you'll wake up with a grateful heart
Poolside or beachside?
Beachside! I'm an Aries, fire sign, so I'm drawn to natural water like the ocean to help cool me down & balance me out
Name a song that perfectly describes your bikini vibe?
"Itsy Bitsy Teeny Weeny Yellow Polka Dot Bikini" by Brian Hyland (except I'm not afraid to come out of the locker 🤪)
Finish this sentence: Bikinis go best with _________.
A) self love & confidence B) a friendly smile C) tacos & a margarita D) all the above (answer is D, I couldn't pick one cause because bikinis go good with EVERYTHING 🤣)
Words to live by?
Find Gratitude in everything 🙏