Chynna Posted on October 17 2018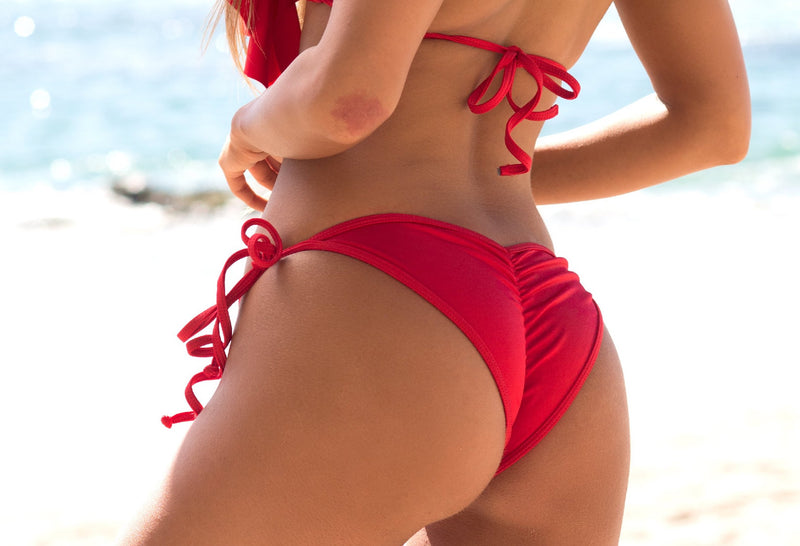 When you shop sexy swimwear chances are, you're shopping for color, cut and what's going to make that bikini body look as bangin' as possible. Are we right or are we right? If you know us, we like to give all you bikini babes options--lots of 'em. Our mix and match swimwear collection is FIRE. Buuuuut sometimes you babes might be a little unsure of who, what, when, where and why when it comes to our bottoms. So let's talk Laguna and let's talk Venice bikini bottoms (both available with side ties or with adjustable sides...read about the difference here). 
The two are commonly confused, but are waaay different. Wanna know more? Here's how they stack up. 
THE LAGUNA STRING BIKINI BOTTOM
What we like to call our "classic" bikini bottom, the Laguna String Bikini Bottom features a single rise, which means more fabric to cover your lady parts. Naturally the sides tie, so you can adjust them to suit your body and our signature scrunch butt detail is coming through. As for booty coverage, it's moderate, so you'll def show off some cheeks, but not your whole bum. If you're toying with the idea of rocking a sexy bikini, but you aren't ready to bear a whole lot of buns, these are the bottoms you want to rock.
THE VENICE MICRO BIKINI BOTTOM
For girls who've graduated from semi-cheeky bikini bottom to super cheeky bikini bottoms, these are for you. Our Venice Micro Bikini Bottom is one stitch away from a thong bikini. A lower front rise, makes this style our teeny tiniest bottoms. We won't lie, ladies, you're gonna want a good wax for these. Like the Laguna, these bikini bottoms tie at the side and feature our signature scrunch butt detail, but you're showing off a whole lotta booty in these. Peep...
...The Hermosa Double Rise Bikini Bottom
Another style, for those of you gals who like your bikini bottoms to come with a little more fabric. Explore our Hermosa Double Rise Bikini Bottom. These classics come slightly higher in the front with double ties on the side and sit right at the hip. This unique design is still sexy, but offers a little more booty coverage. And yes, they're still featuring the scrunch butt detail.