Chynna Posted on March 06 2019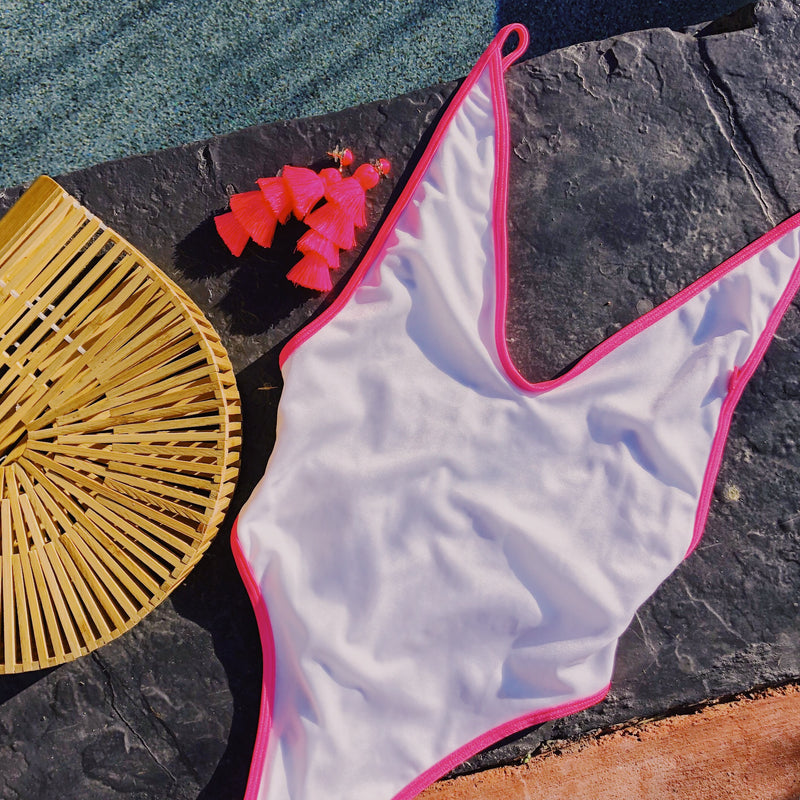 We know, your options seem endless when you shop our site. From cheeky bikinis to thong bikinis, cut out swimsuits to high-waisted bikinis and super sexy one pieces you might not know where to begin. Well, here's a tip, kick off your 2019 bikini collection by copping the St. Martin High Cut One Piece. It's a bikini collection must-have.
We launched this style just as the one piece swimsuit started to gain popularity a few years back and since, we've perfected it. Here's how.
Take the Plunge:
The first thing every babe notices about the St. Martin One Piece is the plunging neckline. If you looked up "sexy one piece" you'd find this as the example. Not for shy babes, the cami-style straps give way to the sexy neckline that dips down in a v-shape, and stops mid-boobie. Whether you're a babe showing off big boobies or if you're team little boobies, this neckline works to make your girls look perf. The fit is snug so you'll show off light cleavage, but also, with the right adjustments you can give major side-boob action.
Baby Got Back (and options):
This ain't your mom's one piece, baby girl. No full coverage here, just some classic Chynna Dolls booty baring in full effect. The upside, though? You've got options, go moderate coverage with the classic CD scrunch butt detail or show it all and rock the thong version of the St. Martin.
Besides showing off your your best side, the St. Martin features a super sexy scoop back that babes cannot get enough of.
Annnnd we offer this swimsuit in a variety of colors, prints and trims. For 2019 babes are love the Lavender St. Martin from the newly launched Jessica Burciaga X Chynna Dolls collection. Another standout? Neons--Yellow with Salmon Trim, White with Neon Pink Trim and Neon Yellow. Then prints...Candy Stripes or Golden Pineapples anyone?
Little Extras:
Let's talk adjustable straps, letting you keep control of the fit no matter what. This is another reason to love this suit. Basically no matter what your body shape or size, you can adjust this sexy one piece to give you ultimate comfort while you're on the beach or by the pool.
Oh and babes, every St. Martin is the ideal bodysuit. No listen. Our boss lady, rocks all of the St. Martins all summer long. How? With white denim, with shorts, flowy maxis and more. Yeah, so fashion and function. Can the St. Martin sexy one piece get any better? We think not.
Add it to your collection and shop all the looks here.