Chynna Posted on June 21 2018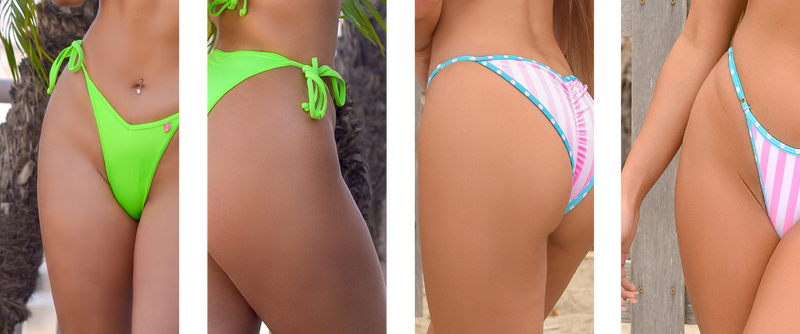 As much as we're all about helping you find the best bikini top for the boobies, we're also all about helping find perfect fitting bottoms for that booty. Sometimes when you're 'kini shopping the options seem endless and you're not quite sure where to start. Start by asking yourself 'how much cheek are you trying to show,' then ask yourself are you a side-tie or an adjustable sides kinda bikini babe. Wait, what?
Yeah, babes almost all of our bikinis come with options--and we know you like that. Read on to learn more about both. And know that no matter what we're still coming with our signature scrunch butt detail to keep that booty bangin' 🍑
Side-Ties Bikini Bottoms 
The side-tie bikini bottom is a traditional style with two strings on either side. Since you're not new to wearing a bikini, you know that the end result is to pretty little bows sitting on your hips and the most comfortable fit as determined by YOU. Also, the ties are known to give the illusion of more hips, thanks to how the ties hang. And you can't argue because side-ties are the less expensive option.
Adjustable Side Bikini Bottoms
Now fast forward to 2018 and we have adjustable side bikini bottoms. The difference? No ties, a little hardware, a lot of sexy. If you prefer a cleaner silhouette, adjustable sides are for you. It's up to you how tight you want your bottoms. Pretty much all of our styles--the thong, the Venice mirco, the Laguna string bikini and the Sorrento High Cut Bikini are all offered with side ties or with the adjustable feature. Another reason to love this style bottom? No stringy tan lines from the tassels and you can comfortably wear under a coverup with no bulky sides.
What's Best for You? 
Here's the quick reference guide. And babes when you're shopping the site, you'll find both options in the drop down...how easy is that?! Select 'With Ties' for side-tie bottoms and 'No Ties' for adjustable side bottoms. Yaaass!!
| | | |
| --- | --- | --- |
| | SIDE TIE BIKINI BOTTOM | ADJUSTABLE SIDE BIKINI BOTTOM |
| Big booties | 💗 | 💗 |
| Little peachy booties | 💗 | 💗 |
| Srunch butt detail | 💗 | 💗 |
| Clean look + best under cover up | | 💗 |
| Gives illusion of more hips | 💗 | |
| More Control | 💗 | |
| More even tan lines | | 💗 |