Chynna Posted on February 01 2019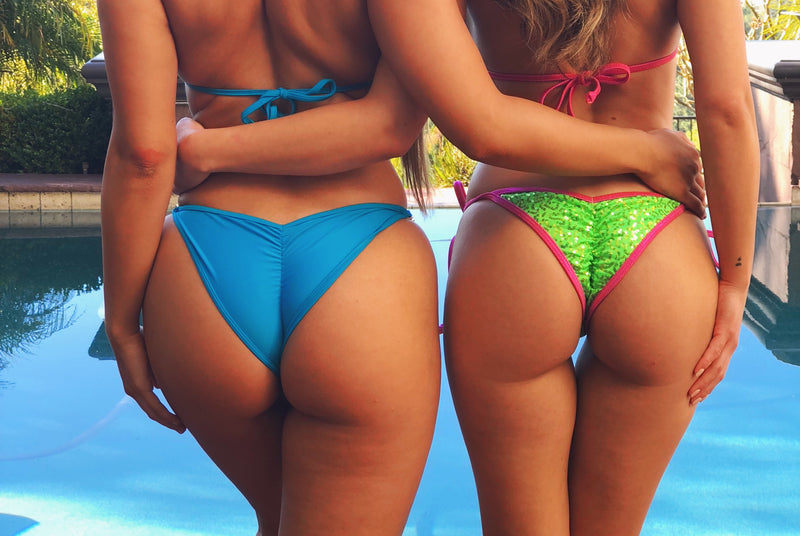 We've been making bikini bottoms since 1997. So our name--Chynna Dolls--is pretty much synonymous with 'scrunch butt.' We were one of the first bikini brands to take to the beach with the super cheeky style. Some of you babes are used to it, but some of you still aren't quite sure what it is. Well get ready to get the tea, babes.
What's a Scrunch Butt Bikini?
Probably the best thing to happen to the bikini, since the bikini (learn your bikini history here) is the scrunch detail. When bikini loving babes got hip to the idea of showing a little more booty on the beach, we had to make some adjustments--literally. So, we rolled out with super cheeky bottoms that included added elastic down the back center of the bikini bottoms. By adding this single strip, sexy bikini bottoms got sexier by tucking in all the right places and showing off the right amount of cheek.
How does it fit?
Scrunch butt bikini bottoms aren't full coverage. They're designed to show at least some booty cheek. Available in all of our Chynna Dolls cuts --double rise, single rise, micro, high-cut--scrunch butt detail enhances what you already have. Rather than sit straight across the lower back, scrunch butt bikini bottoms form a slight V-shape which creates the illusion of curves and the perfect lift for you. We've even translated the scrunch butt fit to one-piece swimsuits too. Styles like the Verona feature this detail and it makes the already super sexy cut-out one piece style even more desirable. Same is true of the plunging St. Martin style.
What body type does it fit best?
Every body! Scrunch butt bikini bottoms are next level because no matter how bubbly, how round, how wide or how little your booty is, these perfect fit bikini bottoms go to work. It makes your bum look fabulous because it gives the illusion of a lift. Scrunch butt bikini bottoms are what our customers love most--especially because you can have them in any fit, almost any print and any color that you like.
Naturally our 2019 sexy bikini collection is loaded with cute new options for babes like you to rock scrunch butt bikini bottoms at the beach, by the pool, on a boat, at a pool party or wherever you want!