Chynna Posted on July 17 2018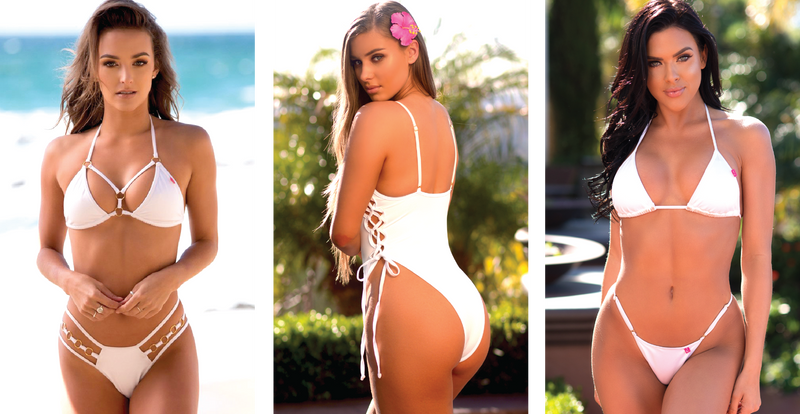 What's hotter than the Summer 2018 heat wave, right now? White swimsuits. Sexy white bikinis, sporty white bikinis, one-piece styles--all of that! We're not even halfway through the season and babes like Kylie Jenner, Halsey, Rita Ora, Kourtney Kardashian are spending their summer in sexy white swimsuits. Are only question is why are you doing the same thing???
We know, babes sometimes steer clear of white for many, many reasons. From this moment on, forget what you think and show off your babe-a-licious bod and that golden glow you've got right now in white. If you aren't sure where to start or what's going to work best for you, don't even worry, babe. You know we've got you!
Textured, Sporty + Sassy
If you're feeling yourself and ready to venture into the world of white hot bikinis, but still feeling reserved, shop the Lyon Sporty Top Bikini. There's a lot to love about this look but most of all is the coverage. You've got a sporty top--which offers maximum support so it's perf no matter what size the boobies may be. You've got high-waisted bottoms--which stay sexy with our signature scrunch butt detail and some cheeky action, but they're high, so you can camouflage your belly if you aren't feeling it. And the best part? Texture! It's ribbed. This takes the 'kini to the next level. Bottom line, you'll be feeling' yourself in a real way.
Unapologetically Sexy
Suit up in something that's suuuuuper sexy. The Lillie Bikini is the way to go. Strappy detail throughout and gold-toned hardware make this a little risque. It's a traditional triangle style body, but with some bells and whistles. The top makes boobies appear to be bigger and the strappy sides give the illusion of wider hips. The bottoms are scrunch butt with moderate coverage and the front coverage leaves a little to the imagination. Rock this on the boat and summon someone to bring your champagne.
Feelin' Flirty
Kinda sweet, but still delivering in the sexy department? That would be the Jessie Tie Top with High Rise Bottoms. It's a must-have from the Jessica Burciaga X Chynna Dolls collab collection. What do you get? Absolute control of your cleavage with the front tie. And longer looking legs thanks to the high-cut silhouette. We love this look for our shorter babes because it makes you look taller. But it's fab for our curvy babes too because it takes you bombshell status like that.
Vintage Vixen
No doubt, you've seen the Verona 80's Inspired High Hip One Piece. Well, here it is in white and it's as cute as they come. We love seeing our babes rock this style because it's fresh, it's fun and it's suuuuuuper sexy. If you're a busty babe, it's cute bc you can show off some underboob (yaaass). If you've got smaller boobies are a more athletic frame, this suit gives the appearance of more curves. And let's talk about what this does for the booty. No matter if you spent the winter doing squats or never went to the gym, those cheeks will be perfection in this. Criss cross detail, a front cut-out and a scrunch butt? It has everything.
Super Glam
Whether you're living a lá Kourtney K. and touring the Italian coast or just hanging on a rooftop pool, you need to white suit that's laced in luxury. Enter the Brooklyn Designer Swimsuit. It's a traditional triangle silhouette, so it's perfect on everybody, and it features gorgeous Italian made connectors and gold trim. Hello, fancy. It's a high-hip style bottom with our signature scrunch butt bikini bottom detail. The gold trim takes it to the next level and makes your tan pop even more. How could you not want to sip champagne with your besties in this bikini?!
SHOP ALL WHITE BIKINIS HERE 💖