Chynna Posted on March 20 2018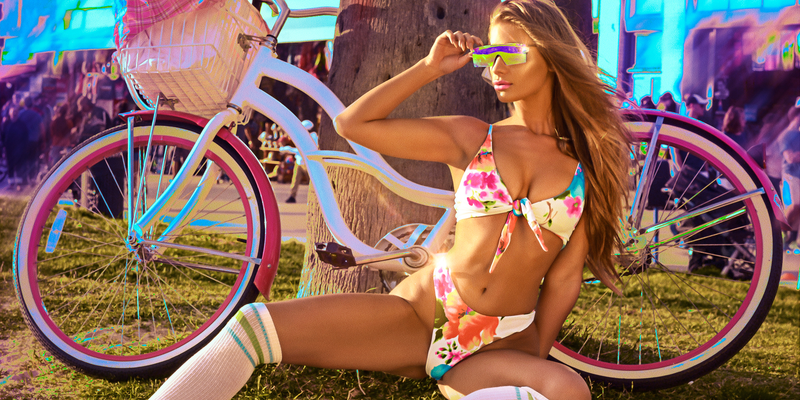 Dolls! You know we love a solid sexy bikini. It's lowkey life for us. But we also go crazy for itsy bitsy bikinis with prints. And this season we are all about florals for spring! Really, we shouldn't we be?! We have some of the cutest floral bikinis ever right now in cuts designed to make you look hot as hell whether you're at the beach, the dayclub or in your own backyard with the besties. The floral prints we've got are taken garden party pretty to sexy (and fun) new places. Ready? Set. Leggo.
Watercolor Flowers
All of our fans know that the Rio is the thong bikini that you need to have in your collection. The fit is barely there, but perfect. So adding in a new exclusive watercolor print just took this to the next level. The print was inspired by all of wildly intoxicating florals the grow around the Caribbean and it's so pretty for springtime with the white background and bold shades of magenta, cobalt and orange. It shows up on our signature sexy one piece, the St.Martin in Watercolor Flowers. No two suits are alike with the blooms sprouting up in different places on each suit. It's the perfect mix of sexy swimwear and pretty. Oh and, the St. Martin doubles as a bodysuit.
A Rose by Any Other Name
Roses are red? Not this season. This year they're pink and white and printed all over the Malibu High Waisted Bikini in Rose Garden. It's hard not to fall for the super feminine bikini. The high waisted bikini bottoms keep it sexy with our scruch butt detail, and the darling bandeau bikini stays sweet with front tie accent. But it's the print that has girls going wild and tapping into their sweeter side this season. A pretty pale pink background defines this sexy bikini as the rose garden motif transforms it into a girlish springtime must.
Black + Blue Tropical Flowers
It's like a garden full of pretty blue flowers, but on your super sexy one piece. Say 'hey' to the St. Martin High Cut Swimsuit in Black and Blue Tropical Print. Try something kinda sweet this year. We know, we know. You're usually going for poolside vixen, but shake things up a bit with soft this watercolor inspired blue blooms situated against a crisp white background. The various shades represented on the teeny one piece are killer. And as always we're bringing this blossoms with our signature scrunch butt detail or in an of-the-moment thong one piece style.