Chynna Posted on May 07 2018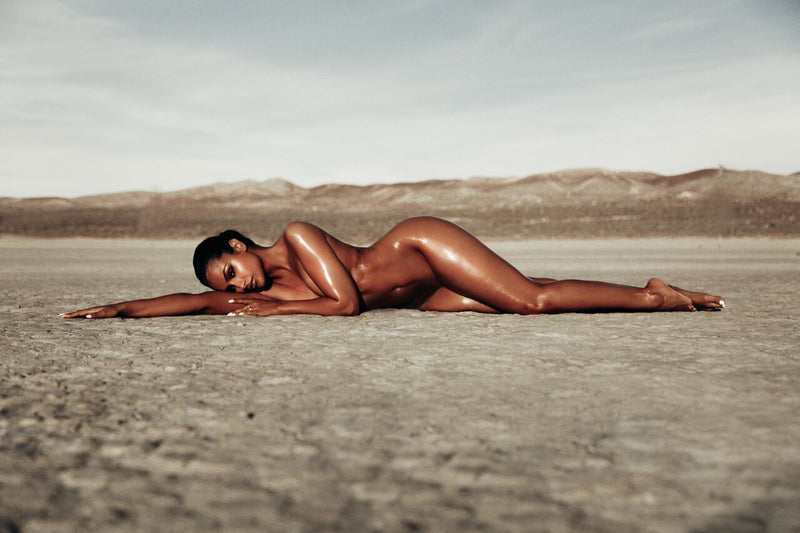 When he asks you to send nudes, just send pics in your nude Chynna Dolls bikini because it's just as hot as showing your naked booty. No, but really ladies, nude swimsuits are currently trending and we say embrace the next-to-nothing movement. Some babes (like Kim K.) have devoted their whole IG to going nude and we're feeling it. It's a super sophisticated and chic--especially on a cheeky one piece swimsuit with some sexy cutout detail or an itsy bitsy triangle top bikini.
Not sure where to start? We got you, girl. Let's go nude.
In the nude all summer long? For sure. Especially if that means rocking the Amber Micro Bikini with Tortoise Ring detail. Redefine what it means to be a nude bikini babe in this suit with a classic triangle top and super skimpy bikini bottoms featuring our signature scrunch butt detail. Go show 'em what an almost naked hottie looks like at the beach bar and the day club. Hot AF, boo.
Acapulco Crochet One Piece
When nude and crochet link up, it's legit. Touch on all the trends in the, Acapulco Crochet One Piece. Made for the beach getaways and sunset swims, but perfect to pair with cute denim cut off shorts, this suit has cutouts in the right places, hand crochet detail and our signature scrunch butt. 
Las Palmas Padded Push Up Bikini
Jessica Burciaga is the babe to show us just how to do nude. Say 'heeeey' to the Las Palmas Padded Push Up Bikini. Designed to give you the best cleavage ever, this pretty bikini style has a light shimmer so you look like a nude goddess by the pool. Scrunch butt? Check. Sexy side ties? Check. Front tie for maximum boobies? Check.
St. John One Piece
Caribbean waters are turquoise and nothing looks more sexy against them than a babe in a nude sexy one piece swimsuit. Look to the St. John One Piece for all of your exotic getaways. It's a soft natural tan and shows off skin with a bold lace up front detail and a cheeky bottom. You'll for sure heat up the waters with this one.
Savannah Off The Shoulder Bikini
Sorta sweet, but way sexy? That would be the Savannah Off The Shoulder Bikini that's even more perfect because of the lace up front and side tie bikini bottoms. A soft neutral shade, looks pretty against any skin tone and gives you a super flirty look.
Phoenix One Piece
For those days that you
really
don't want to wear anything, wear the Phoenix One Piece nude and get the naked effect. This sexy one piece swimsuit shows off your curves in the best way and still leaves a lil something to the imagination. Pretty lace-up detail draws attention to the back, but then again, so does the cheeky bikini bottom fit. Go on girl, show it all off.
Rio Triangle Top + Thong Bikini Bottom
Get all the looks and all the likes in one of the classic bodies--the Rio Triangle Top Bikini and Thong Bikini Bottom. This style is simple, but over-the-top sexy. The next to naked look is a must for white or black sand beaches with bae or poolside hangs with your besties. Bottom line, this teeny thong bikini is life. Nude life.

Susan Open Side One Piece 
Next level nude with Naz? We're into it. The Susan Open Side One Piece seems modest, until you peep the sides with cutouts that show off some major sidebob. The nude hue only adds to the sexy. More of a classic cut, this style acts as a supes cute bodysuit with your fave white skinnies. Hashtag LOVE.
SHOP all the NUDES here