Chynna Posted on April 13 2021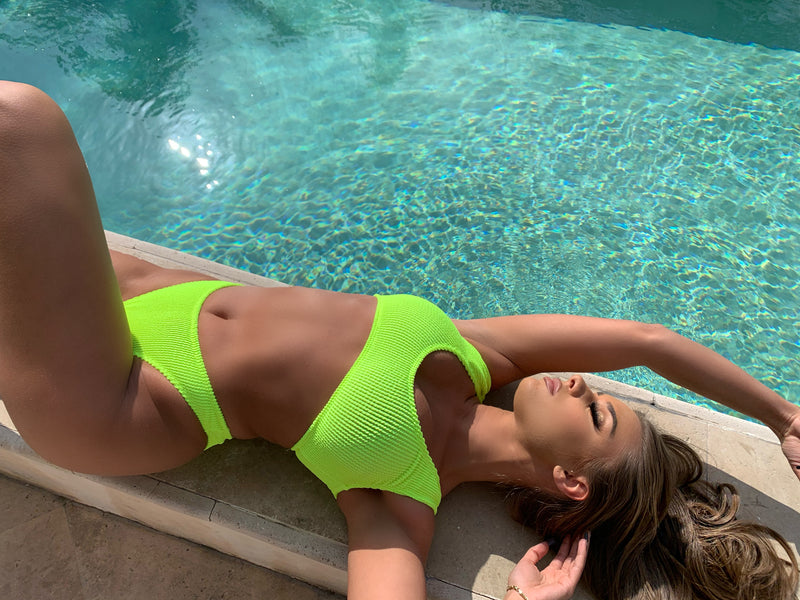 Bikini season is heating up-- no one can deny that. But we decided to make it a little bit hotter. 
Enter the Crinkle Collection. Chances are you've seen babes showing off in this crazy cute, 90's vintage looking material. Well, we've got it. And just in time for Summer 2021, our Crinkle collection is dropping (you Babes keep asking). We obviously love the colors and the three new styles, but more than anything, we love the simplicity--two sizes and designed to fit EVERY BODY and make you look damn good. 
All the Feels (and Fit)
You're used to the smooth bikini feel, right? K. Rethink that. The Crinkle Collection is heavy in the texture depo. So, it's super soft to the touch, but also designed with major--we mean maaaajor--stretch capability. Because it's loaded with stretch, it's the ideal 'kini because no matter your size or body type, this look works (and werks). The smart stretch is so bomb that it does more than fit, it conceals and enhances. So if there are areas on your bod that aren't you fave, no big deal...this 'kini will "fix" 'em. The texture gives the illusion of more curves while it camouflages here and there. We know, you already love it. P.S. It's supportive too. 
Super Bright Idea
We know you. We've been getting you poolside and beach-ready for years, which is why we knew to drop the Crinkle Collection in bold, memorable colors. Opt for a neon pink bikini, a neon green monokini, a neon green high-waisted bikini or go for all of the styles in black. We've dropped three new styles--a monokini, a sporty top with high-cut bottom and a bandeau and high-waisted duo and each is available in all four colors. Each shade is even more amazing in the sun as the light hits the tiny folds in the fabric. You've gotta see it to believe it and really fall in love with it. And you will...
Ways to Wear It
Another feature of the Crinkle Collection that's gonna change your life? It's an easy transition piece. So you can go from brunch to beach easily in the Costa Rica Monokini or create the perfect daytime look with the Athena Sporty Top or the Italia Bandeau. We love the feel and how each style goes so well with existing pieces like denim or high-waisted leggings or whatever really. Like we said, get all the colors and get this into your beach day and your day-to-day outfit rotation. You'll thank us later, Babes. Promise!