Chynna Posted on March 14 2019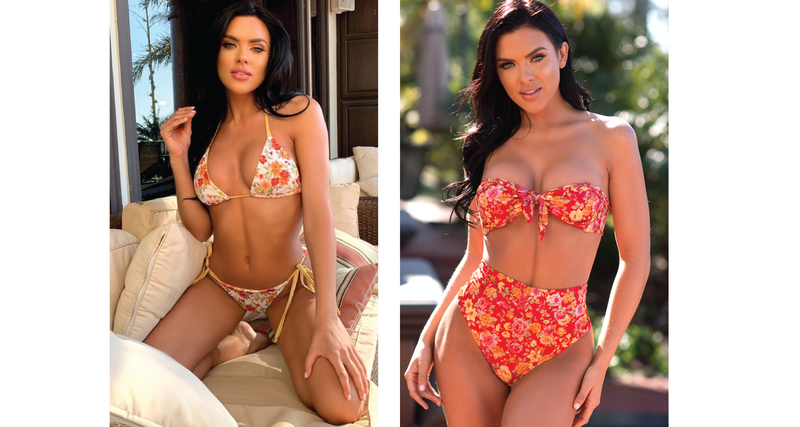 Have you felt it? Felt what? The season shifting, babe! Now that the days are longer (even though Daylight savings has us tired AF) and the sun's coming out to play a little more, it's clear that spring is on its way. And we say there's no better way to celebrate it than with a super sexy--but sweet--floral bikini.
For the 2019 'kini season, we got super excited rolling out with a ton of new styles and pretty prints. Hello, did you read the behind the scenes blog from our photoshoot?! But what we're crushing on right now are all the delicate floral styles. And you know us, we didn't stop at one floral print. We gave you options. We want to see you babes in this slaying poolside or even rocking floral bandeaus to your besties bridal shower.
If it's bikinis with flowers you want, it's bikinis with flowers you're gonna get. We did styles in a host of colors--red bikinis with flowers, thong bikinis with flowers, pink bikinis with flowers, tropical flower bikinis, ditsy flower bikinis...Shall we go on? You get the idea, babes. But we wanted you to peep some of the sweet floral looks we've created for 2019. Oh and also, for you spring break babes, these are the best spring break bikinis ever.  
Golden Floral Avila Reversible Itty Bitty Bikini
The Avila gets a lot of love. And it's easy to see why. Made for the undecided babe, this style is full floral on one side and a super luxe gold hue on the other. Amazing, we know. Coming through with a bit of a boho bikini feel, the colors are vibrant and warm and so hot for your springtime glow. It's a triangle bikini top--yes you can add padding as you can with all of our 'kinis--and the bottoms are side-tie Laguna style, with a low rise, cheeky bikini bottom fit and scrunch butt detail. Everything about this is classic. And it would look so cute with some spring denim. Serve lewks, babe.  Get it. 
Blue Tropical Las Palmas Padded Push Up
We rolled out with this cut last year and it's back. The Las Palmas hails from the Jessica Burciaga X Chynna Dolls Collection and is having a major moment for babes who want to look like they've got a little more. Molded cups, adjustable ties for more cleavage and on the bottom for the appearance of more curves make this a fab fit for petite bikini babes. But let's obsess over the gorgeous print. Set on a soft blue background are an array of coral and pink flowers sharing space with bold blue and green palms. It's a print that commands attention, but also gives the feeling of feminine serenity. Get it.
Purple Garden Laguna String Bikini
You already know the Laguna String Bikini is a fave among Chynna Dolls babes. But now it's available in the most delicate floral print ever, Purple Garden. Trimmed with a luxe lilac shade, the print gives way to a darling mix of orange, yellow and purple blooms all over. The white background makes all of the flowers pop even more. The fit? Well, you already know. It's classic. Triangle top, teeny bikini bottoms with a cheeky fit and signature CD scrunch butt detail. It's a must-have, babes. Get it.
Spring Bouquet Venice Micro Bikini
On of our most poppin' looks this season is the Venice Micro Bikini in Spring Bouquet. We are all about this pretty print where a simple white background mixes with a garden of vibrant blooms. Reds, pinks, purples, yellows, orange and delicate greenery all bring this style to life. It's literally a bouquet on a bikini. Because if no one brings you flowers, Chynna Dolls will. Ayeee. The cut is sexy and teeny bikini vibes in either a triangle or bralette style bikini top, but it's available in all of our classic cuts--Laguna, Hermosa, Sorrento, even the new Roslyn Pencil Skirt . Pair with a pretty spring straw bag and some bold earrings. Um hello, cute. Get it.
Pink Cerise Flower Malibu High Waisted Bikini
Last year, babes were loving the High Waisted Rose Garden Bikini this year it's all about the Pink Cerise Flower and the Red Garden look. It's a sweet and pretty pink shade that's peppered with delicate red and pink flowers allover. The fit is sexy with a little more coverage. We vote for the bandeau top, which makes the cutest crop top with your white denim for a fab springtime look. Rock this one to the beach and to your besties bridal shower without any interruption. It's got girlish charms that you can't resist, like a front tie feature, optional neck strap, back tie feature and of course CD scrunch butt detail. Get it.